Holidays can be a stressful experience for a child with Autism Spectrum Condition (ASC). Children with ASC thrive on routine and familiarity and going on holiday means your child having to cope with lots of changes. This can leave a child with ASC feeling anxious and stressed which can often result in challenging behaviour as they may have difficulties articulating their feelings. Although this all sounds very negative, children with ASC can enjoy and benefit from the new experiences that a holiday brings. The key is to plan ahead, thinking about the individual needs of your child and what they might need to make the holiday as relaxing and enjoyable as possible (for everyone!)
Top tips for helping your child with ASC when going on holiday
So what can parents do to make sure everything goes smoothly? Here's our top tips:
1. Think before booking
There are lots of things to think about when planning a holiday, which can make a real difference to a child with ASC. There are three important things to consider: travel, accommodation and activities.
Travel - how will you get to your holiday destination and will this be a stressful or relaxing experience for your child? Travelling by rail or boat might offer a new experience for your child but could be one which they will cope with more easily than other options such as air travel. On a train or boat, you and your child have the freedom to move around when needed and the opportunities to have quieter moments away from people, which is more difficult on an aeroplane. Travelling by car might be a suitable option if you are not travelling too far afield and will probably be a familiar option for your child, although the downside if you are driving is that you cannot attend to the needs of your child.


Accommodation - there are so many different options for accommodation when on holiday which is great, as there should be something which will be ideal for you and your family. It might be helpful to know that the

National Autistic Society

has a directory of holiday venues in the UK which are stated as suitable for Autistic people. It's worth checking this out, even if it just gives you some ideas of things to think about. Think about the individual needs of your child and what different accommodation options would offer. If your child needs physical boundaries, ensure you choose somewhere which is secure inside and out so that you will not be stressed about your child wandering off. If your child doesn't like crowded spaces, a busy hotel is probably not the best option for them; a secluded country cottage or yurt might be more suitable. Think about sleeping arrangements and food options. If your child is fussy with food, an all inclusive holiday could be the wrong choice unless you are prepared to provide your child with their own food.


Activities

- think a little about what activities your holiday will involve and this will probably depend on the location you choose. If your child likes walking or swimming, make sure these options will be possible on your chosen holiday. You don't have to meticulously plan each day but some consideration to the activities on offer in the area you will be staying will save time when you are there, especially if you don't know the area.
2. Prepare your child for what is going to happen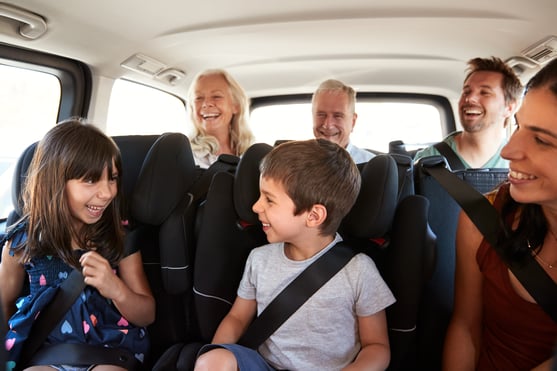 If you are the parent of a child with ASC, you will probably know that preparing a child in advance of changes can have a hugely positive effect on how they cope with everyday life. Your child is going to manage the holiday much more positively if they know and understand what is going to happen. How you prepare your child will depend on their level of understanding and it is important to consider how best to prepare your child. It is important to think about the language you use, ensuring that your child understands as much as possible. Try to avoid vague or abstract language that they might not understand. For example, if they have never been on holiday before, rather than saying 'we are going on holiday' it might be more helpful to say 'we are going to stay in a caravan for five nights'. Children with ASC really benefit from visual support, so showing them pictures on the internet of where you will be going, or YouTube clips if these are available, can also really help to demystify what is going to happen.
As well as preparing your child for the holiday, it is important for them to know that it will also come to an end and you will all go home. You could make a visual countdown of how many days until you return home, simply a series of boxes, one to represent each day of the holiday. Tick them off with your child every evening so they can see in a clear, visual way how many days are left of the holiday. It is very common for children with ASC to find it difficult to manage transitions (moving from one activity or place to another) so this strategy should help prepare them for coming home and hopefully make the transition smoother.
4. Consider sensory needs

Many children with ASC have sensory needs, which can have wide-reaching effects. They may have an urge to climb, run or enjoy the sensation of swinging in the air. They may be hypersensitive to certain textures, smells, sounds or tastes. Your child will still have these needs while on holiday so it is important to plan ahead and pre-empt any problems. Make sure you bring anything you use in your everyday life which helps your child. This could be ear defenders if they struggle with noise or fiddle toys if they like to have busy hands.
It is not always possible, but try to think about what new sensory experiences your child may experience when on holiday and how your child will react to this. This can include thinking about the climate (will your child be more stressed in extreme heat?) or if you are going to eat out, checking the menu beforehand to ensure there is something your child will like.
5. Tell people
ASC is a relatively common condition which most people have heard of. Most people, no matter their level of knowledge about ASC, will be happy to help and support your child in any way they can. Talking with the owners of accommodation you are considering before booking, will allow you to ask questions that are important to keeping your child safe during the holiday. Similarly, contacting places you fancy visiting beforehand, will give you a better insight about whether they will work for you. Some attractions may already have support systems in place for people with ASC or can give you details about when their venue is typically quieter etc. Many people will be happy to make small changes which can make a big difference to your child.
Hopefully this blog has given some useful advice if you are a parent of a child with ASC, thinking about booking a holiday. Due to the recent Covid-19 pandemic, this may be your child's first ever holiday, or their first in a long time. Either way, I really hope you can find a holiday where you will all have a fantastic time.
If you're wondering whether your child needs support with their speech, language and communication skills, why not take a look at out therapist directory. Or get in touch with us and we'd be happy to talk it through.