Getting support with your child's communication shouldn't be stressful and with Mable, it isn't.
It's simple to
get started
If you've been trying to get support for your child, it may have felt like hitting a series of brick walls. Mable's aim is to make accessing children's speech and language therapy as stress-free as possible. There's no waiting list and booking your first session is really easy. It's as simple as 1, 2, 3... (4!)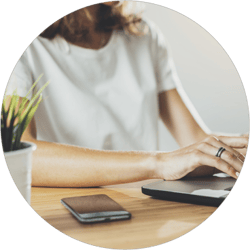 1. Choose your therapist
You (and your child) can browse the therapist profiles and decide who you think they'd like to work with. Once you've selected your therapist, we'll ask you a few questions to check that the therapist is suitable for your child.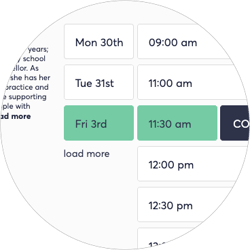 2. Book an appointment
Once you've chosen your therapist, simply click on the appointment time that suits you and enter your details. You'll receive an email with a link to log-in to Mable where you'll join your appointment. There's no need to download any software, you just need a PC, laptop or tablet.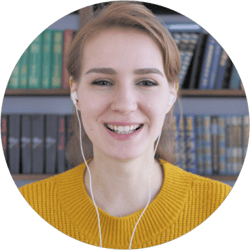 3. Meet the therapist
You can come to the first consultation with or without your child. It's a chance to meet the therapist and see how the interactive platform works for your child. The therapist will advise you if an assessment is needed and you can agree on your child's next steps.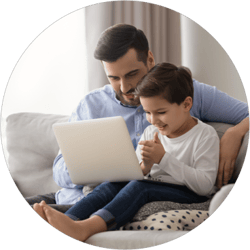 4. Start therapy
This is where the real journey begins! Mable therapists use a 'hybrid' approach so they'll work on targets in the sessions for you and your child to practice and apply in the real world. They'll use our innovative platform to make sessions fun and interactive, which means more engagement and better outcomes for your child. You'll be able to access homework tasks, reports and data simply by logging in. Check out our approach to speech therapy here.