How to help your child develop their speech and language skills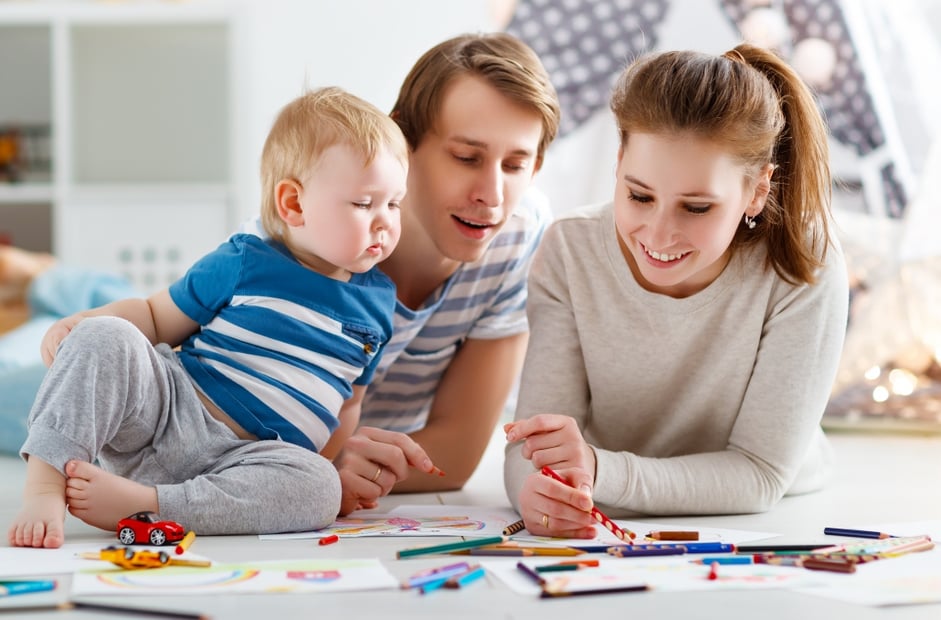 When your child's speech or communication skills are not developing at the same rate as other children their age it can be a concern. Mable Therapy provides Adult-Child Interaction Therapy to support you and your child to develop key speech and language skills.


When you first hear from a health visitor, neighbour or a parent that your child's speech is delayed you can't help but worry. I'm often asked, how should I support my child's speech and language development? Should I be making them say it "properly"? Should I be translating what they are saying so other people understand them? Will anyone understand them when they go to school? It can be difficult to know which is the best advice to follow and what is going to be most effective for you and your baby. In this blog, I describe an approach to therapy known as Adult-Child Interaction Therapy. By the end of this article, I will have answered those questions about the "best" way to support your child's communication.
My Thoughts on Adult-Child Interaction Therapy
Adult-Child Interaction Therapy (ACI) has been a fundamental part of my speech and language therapy practice for many years. It is an approach to therapy which looks at where a child is developmentally rather than chronologically as a starting point. It is also a child-centred approach which focuses on a child's interests and motivators. Adult-Child Interaction is one of the first therapy methods I was trained in when I qualified twelve years ago and is still a technique I use almost daily in my practice. It is not just a therapy approach but can be a way of life and change how you interact with individuals and children.
For the purposes of this blog, I refer to this approach as Adult-Child Interaction Therapy, but it is also known as Parent-Child Interaction Therapy. There are various organisations that use this approach including Hanen Centre, DIR Floortime and it is even used by the Micheal Palin centre for stammering. Each organisation will have slightly different programmes, but the principles remain largely the same.

What is Adult-Child Interaction Therapy for?
ACI therapy is a highly effective therapeutic intervention with a strong evidence base. Speech and Language Therapists use this method to mostly support young preschool-aged children to develop their communication skills. However, occupational therapists, psychologists and social workers have also used this approach to support individuals they are working with too. This indirect approach is based on relationships, interaction and parental responsiveness rather than structured and adult-directed tasks. This is what makes it so flexible as you can literally do it anywhere and it fits in with family life without any additional resources required.
The Hanen Centre is a world-renowned leader in early childhood language intervention. Their evidence-based approach to helping parents of children with delayed speech or language is rooted in the following three principles:
The pivotal role of parents and caregivers – Recognising the family as the most important element in a child's life means that parents can and should play a primary role in their child's speech therapy intervention.
The importance of starting early – Children who receive speech therapy intervention early in their lives will have the best results.
The power of the "every day" – Children learn to communicate not by being "taught", but by participating in everyday conversations and activities with their parents and other important adults.



Coaching
In each session, the Speech therapist might do some observations of you playing with your child or they may ask you to send video recordings for them to analyse with you. The Speech therapist coaches you in various techniques and will give home practice tasks in between sessions.

Collaboration
You and the Speech Therapist problem-solve issues as they arise and the Speech Therapist tweaks the programme so that it is individualised for the family. It is a team approach which empowers you to deliver the therapy yourself. Obviously, you are with your child for a far bigger proportion of the week than a Speech Therapist, meaning they receive much more therapy than just the session with the Speech Therapist.

Empowerment
Adult child interaction therapy is not merely a printed off-hand out of advice which parents are left to implement themselves. It is a collaborative empowering approach that advocates the parents as experts on their child and the Speech Therapists as experts on communication, hence the team working element of this approach is invaluable. Sometimes parents are a little confused when they arrive at sessions and are informed that they will be doing most of the work. However, once they engage in the process and understand the true power they have in this approach it really is life-changing. The key element is that you are supported by a trained professional to implement all the strategies and feel supported at every stage along the way.
Yes, it can be just as effective online as in real life. All you need is a laptop and an internet connection and it can easily be done through the Mable platform. The same coaching, problem-solving, planning and goal setting can be done through the use of both live and recorded interaction sessions of you and your child. Specially trained Speech Therapists will be able to coach you through the steps and individualise the therapy to best support your child to make progress.

What Can I Do at Home?
As previously mentioned an approach is a specialist approach that entails trained Speech Therapists and parents working together. However, there are some basic strategies that you can begin to apply to get you started. You can start off by setting up a 10-15 minutes a day where you are your child play together in a distraction-free environment.


Try out some of the following strategies and observe what happens:
Let your child choose the toy
Follow what your child wants to do with the toys
Sit where your child can easily see you
Wait for your child to start the communication (with words, gestures, or looking at me).
Give your child plenty of time to talk
Show them that you're listening ( through facial expression or by repeating or answering them)
Comment on what your child is doing
Don't ask too many questions
Be positive and give lots of praise and encouragement.
Talk slowly enough for your child to understand you.